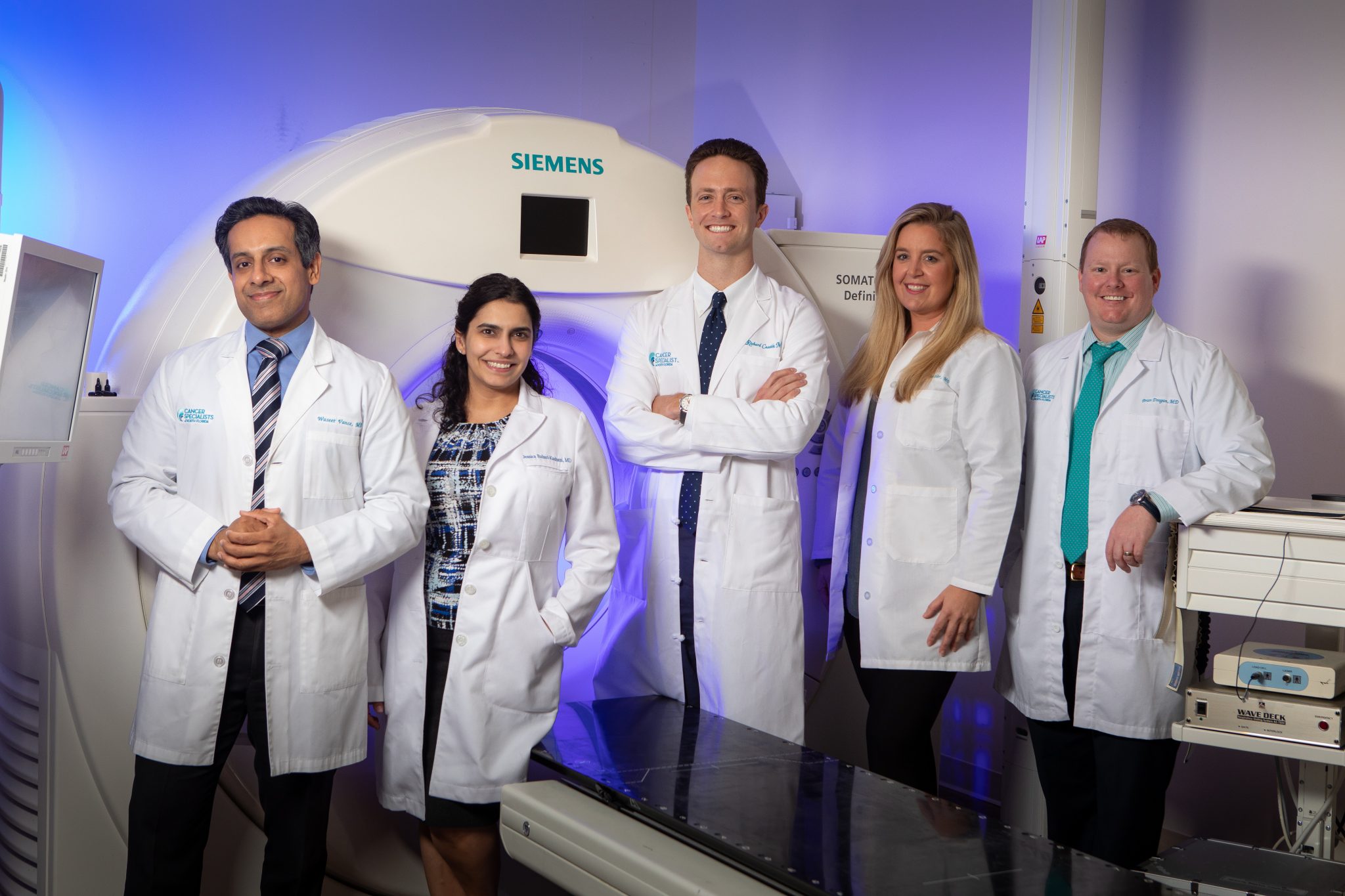 The Department of Radiation Oncology at Cancer Specialists of North Florida (CSNF) has earned the American Society of Radiation Oncology (ASTRO) APEX Accreditation for a second time. Originally accredited in 2019, CSNF's radiation oncology department was the first in the state of Florida to earn the esteemed distinction. As of this year, only one other radiation oncology provider in Jacksonville holds this honor.
The accreditation highlights the quality of CSNF's radiation program. "It's truly confirmation of the high-quality of our radiation department and the contributions of our entire team," says Dr. Jessica Bahari-Kashani, the CSNF radiation oncologist who oversaw the reaccreditation process. "Our reaccreditation exemplifies the high standard of patient care that we have held ourselves to even prior to receiving this honor in 2019."
CSNF first introduced the radiation subspecialty to their practice in 2014 with just two radiation oncologists, Dr. Waseet Vance and Dr. Emily Tanzler, and one treatment machine. Barely ten years later the department has grown significantly, expanding its services to include four sites in three counties, boasting five treatment machines (with two more planned), a growing radiopharmaceutical program, seven board-certified radiation oncologists, and an in-house team of fully trained and certified dosimetrists, physicists, and radiation therapists.
"To see how much we've grown in such a relatively short time is inspiring," says Dr. Vance. "We went from treating 30-40 patients per day to now over 200. The best part about that is that we've been able to fulfill our promise of providing of 'world-class care, close to home' with locations in Fleming Island, Riverside, Southside, and St. Augustine."
"A diagnosis of cancer and the subsequent treatment is a stressful time," adds Dr. Tanzler. "We strive to ensure patients can receive their life-saving care in one location, without long drives and disjointed centers. The patient's experience is the only thing we as doctors truly have control over. Expanding our department to four locations across Northeast Florida not only makes us the largest radiation oncology practice in town, but also the most convenient."
CSNF Radiation Oncology also continues to grow their Theranostics department, originally started in 2020 and led by Dr. Rick Cassidy.
"Theranostics is a combination of radiation oncology, diagnostic imaging, and targeted therapies" explains Dr. Cassidy. "By using targeted PET/CT scans in conjunction with radiopharmaceuticals, doctors can determine if a patient's cancer cells have certain markers. If they do, we can use targeted therapies to deliver radiation directly to cancer cells. More specified treatments mean less radiation exposure to healthy surrounding tissue – we're proud to be on the forefront of that in Northeast Florida."
"Accreditation or not," says Dr. Bahari, "our team feels that CSNF's commitment to our patient's success is clear, but this distinction, as tangible proof, is an absolute honor and something we will continue to strive towards for years to come."
Click to learn more about Radiation Oncology
Click to learn more about Theranostics
Inquiries can be directed to Marketing@CSNF.us.