What is Clinical Research?
Cancer Specialists of North Florida has been involved in clinical trials since 1995. We have continued our efforts and actively pursued and expanded our clinical trials to fit the community setting. Our group participated in indication Phase III trials that led to the approval of many key oncology drugs.
Our clinical research team participates in a wide variety of research initiatives on an ongoing basis. Our physicians work in partnership with our panel of research coordinators to study, evaluate, and conduct new drug therapy protocols for participating patients. Together, they bring the most meaningful advances to cancer care in our community.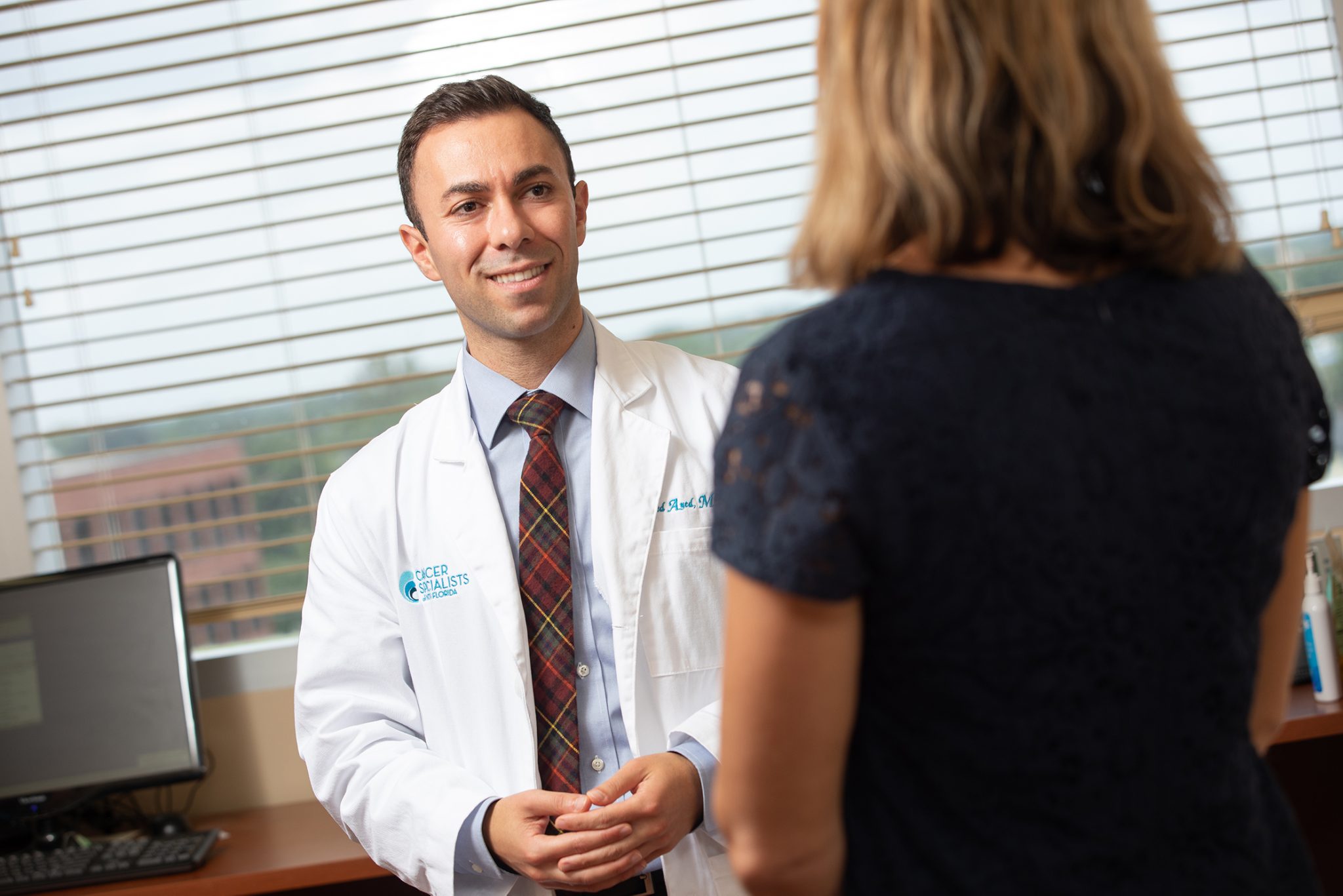 Breast Cancer
Head and Neck
Hematology
Lung Cancer
Lymphoma
Melanoma
Multiple Myeloma
Myelodysplastic Syndromes
Pancreatic Cancer
Prostate
Solid Tumor
Supportive Care
Urothelial Cancer
Blood Draw
Tempus Time Trial Program
RELEVANT STUDIES
Leukemia &
Efficacy and Safety of Ofatumumab and Bendamustine Followed by Ofatumumab Maintenance in Patients with Relapsed Indolent Non-Hodgkin Lymphoma After Prior Rituximab
Mehdi Moezi, MD
Frequently Asked Questions
What are Clinical Trials?
Clinical trials are research studies done to test new and promising ways to treat diseases. Before a medication or procedure can be FDA-approved, it must be tested to make sure it is safe and effective.
Should I Consider a Clinical Trial
Choosing to take part in a trial is an individual decision based on your health and your medical condition. If you consider entering a study, you will be given all information available and have the opportunity to discuss your options in detail with your physician. Only you can decide if the study is right for you.
What is the Purpose of Conducting a Clinical Trial?
A clinical trial takes new treatment protocols that work well in the laboratory and try them on patients. The purpose is to monitor how effective these treatments are on people and what, if any, side effects occur. Clinical trials are the final steps in the process of getting new treatments approved by the Food and Drug Administration.
How Can I Learn More About Trails That Could Benefit Me?
You should first talk to your physician to see if clinical trials are right for you. You can also learn about clinical trials around the country at the
National Cancer Institute
 or by searching for available trials on
ClinicalTrials.gov
.
Will I be Given a Placebo? (Sugar Pill)
Individuals in a control group during a clinical trial receive the standard of care treatment for their conditions. If a treatment shows exceptional promise in helping combat the disease, patients are often "crossed over" from the control group into the trial group so they receive all the benefits of the new protocol
Will I Feel Like a Test Subject?
You will  be treated with dignity and respect throughout the entire clinical trial process. Specially trained nurses and research physicians will monitor your progress, and your doctor will only recommend a treatment that he or she believes is right for you.
The first human trials for a new treatment and are usually limited to a small number of people (usually fewer than 20). The goal of a Phase I trial is to find the highest dose and the best way to give a new therapy without undesirable side effects. This phase is probably the most important step in the development of a new drug or therapy.
Tests whether a new therapy is useful to fight cancer. Phase II trials are open to more patients than Phase I trials, about 25 to 100 patients. In Phase II, doctors look for side effects and to see whether the drug actually kills cancer cells in humans.
Tests whether the new treatment kills more cancer than the currently approved standard (the most effective) treatment. Phase III clinical trials are open to many people, usually hundreds to thousands and require a large number of patients. These studies are conducted throughout the nation, and some are international. If a treatment is found to be safe and effective, the research is sent to the Food and Drug Administration for review.
Study treatments already approved by the FDA to find the best way to use the new treatment. Patients do not need to be in a study to receive the new drug since it is FDA approved, but can choose to participate.
Contact Us
Want more information? Contact our Research Manager!
MaryAlice Anderson, PharmD
MaryAlice.Anderson@CSNF.us
Phone: (904) 363.7462
Fax: (904) 538.3468